Aragon project updates: April 2020
CoinMarketCap for DAOs, a new way to reward contributions, Aragon Court keeps making rulings, Telegram DAOs, and more!
Hello ara-friend!
April has been a busy month. We have seen an uptick in DAO usage across all fronts. So here we go with some updates!
We just launched a new page listing DAOs against COVID-19. If you want to help fight the virus, check them out!
DAO profiles! 🤖
1Hive, one of the communities building on the Aragon stack, has released DAO profiles in Apiary, their DAO explorer. Apiary is akin to CoinMarketCap for DAOs.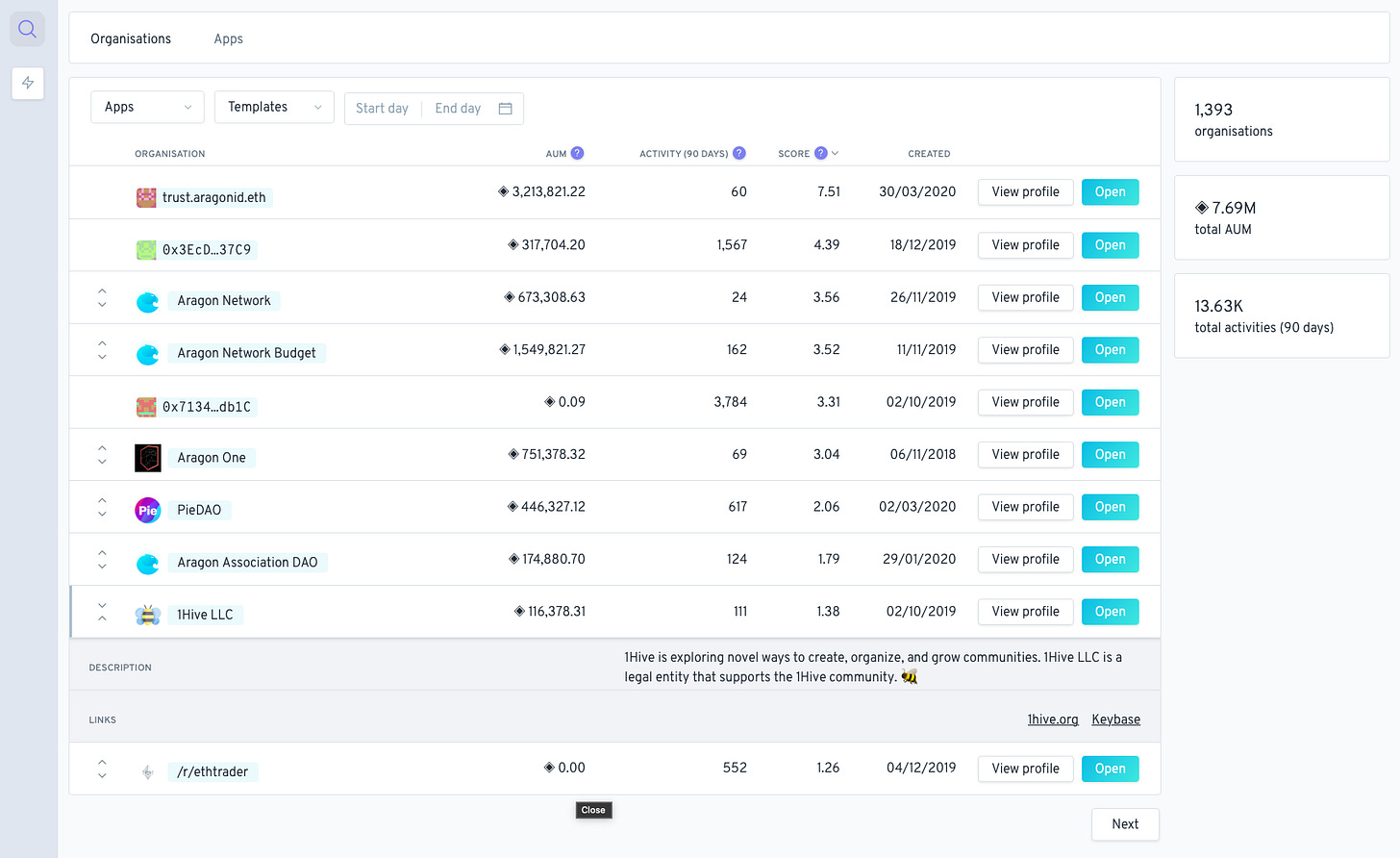 DAOs can claim their profiles using Aragon's permissions system and appoint editors. They can set their name, icon, description and links to join.
Thanks to Apiary, users can now discover DAOs and join them easily!
Read more → | See it in action →
AraCred rises 🧬
It is challenging to reward contributions in open communities. You would have to analyze different channels for activity, such as GitHub commits or Discord messages.
Well, that is exactly what SourceCred implemented! It checks sources like GitHub, Discourse and Discord, and generates scores for contributors.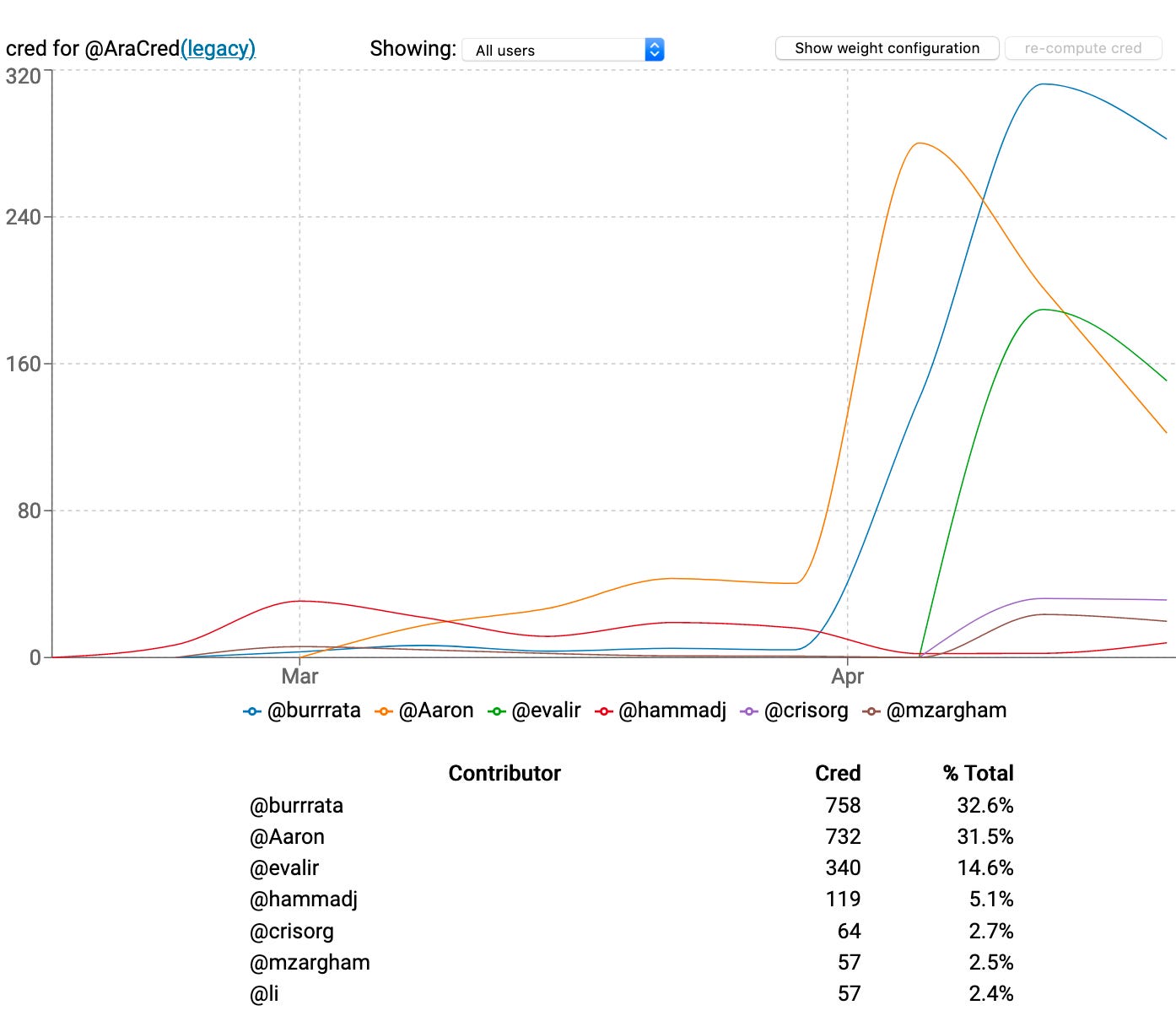 Now AraCred brings SourceCred to Aragon DAOs — you can now reward community contributors with DAO tokens based on their activity within different channels.
Telegram DAOs 📱
I wrote why and how DAOs should go where internet communities already live — Telegram, Facebook, and other social platforms. Combined, they have billions of users, and they are a great distribution platform. Let's supercharge internet communities!
---
Expert DAOs 👩‍🔬
I wrote about another DAO mechanism — Expert DAOs. Expert DAOs allow for the bottom-up formation of clusters of experts that can cryptographically attest truth.
An example can be an Expert DAO of scientists publishing objective information about the COVID-19 outbreak. The best part? Someone is already working on bringing Expert DAOs to the world!
Conviction voting on Aragon! 🗳
Conviction voting is a novel governance mechanism for fund management.
Proposals to withdraw funds need conviction correlated with the amount of funds they want to withdraw. In other words, the more you ask for, the more support you need for the DAO to make the transfer!
Aragon Court made a few rulings 👩‍⚖️
Last month we announced that the Precedence Campaign would be resumed with the App Mining disputes. Since then, Aragon Court jurors have ruled on four third-party Aragon apps to be eligible for App Mining rewards. So far, all of them are eligible!
Aragon App installer 👩‍💻
Aragon is the most modular DAO framework out there. If DeFi is money LEGOs, Aragon is governance LEGOs! 1Hive created this app installer to enable DAOs to install their apps on existing organizations.
aragon.in link shortener is live 🔗
People are very proud of the DAOs they belong to, so now they can use the short and sweet aragon.in shortlink for them!
aragon.org got a complete makeover! ✨
The new website is much more focused on communities and existing Aragon success stories. Check it out →
---
Other updates 🚀